Bell's the One, Ward Horses Tune Up at Keeneland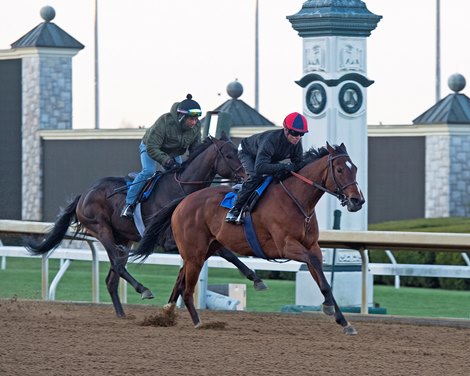 Trainer Wesley Ward worked several of his top contenders April 2 on a busy morning at Keeneland, including grade 1 winner Golden Pal , grade 2 winner Twilight Gleaming , and Central Bank Ashland Stakes (G1) hopeful Happy Soul . Madison Stakes (G1) runner Bell's the One  also drilled for trainer Neil Pessin.
Ward will bid for his fourth consecutive Keeneland spring meet training title when the season opens April 8. He won the title last year with 20 wins—including four stakes—and is optimistic about how his stable will perform this April. 
"I'm feeling great," Ward said. "We've got a lot of horses in various different categories—a lot of nice stakes horses. The 2-year-olds are always fun to see which ones blossom. This is the highlight of opening up my year to see how we're going to progress. We're really looking forward to it—as is everyone who comes to Keeneland in the spring. It's a great place to be—the only place to be."
On the fast main track, Gayla Rankin's Central Bank Ashland (G1) hopeful Happy Soul covered six furlongs in 1:11 1/5. The filly has won her past three races, including the Feb. 19 Dixie Belle at Oaklawn Park. She won the six-furlong stakes by three lengths as the even-money favorite. Ward said she will be ridden in the Central Bank Ashland by John Velazquez, who has been aboard in all four of her races. 
Working five furlongs on a turf course labeled good were Ward's two 2021 Breeders' Cup winners—Susan Magnier, Michael B. Tabor, Derrick Smith, and Westerberg's Golden Pal and Stonestreet Stables' Twilight Gleaming—who are preparing for their 2021 debuts on opening weekend.
Sign up for BloodHorse Daily
Golden Pal (1:01 1/5, fastest of six at the distance), who won the 2020 Breeders' Cup Juvenile Turf Sprint (G2T) and 2021 Breeders' Cup Turf Sprint (G1T), is to run April 9 in the $350,000 Shakertown Stakes (G2T). Twilight Gleaming (1:01 2/5, second-fastest at the distance), who took last year's Breeders' Cup Juvenile Turf Sprint, is to run April 10 in the $200,000 Palisades Stakes.
Another notable Ward turf worker was Stonestreet's Campanelle , a two-time group stakes winner at Royal Ascot (five furlongs in 1:02 2/5). Ward said the 4-year-old daughter of Kodiac  would make her 2022 debut April 16 in the $200,000 Giant's Causeway Stakes. Campanelle won the 2020 Queen Mary (G2) and 2021 Commonwealth Cup (G1) at Royal Ascot as well as the 2020 Darley Prix Morny (G1).
"We're focused on sending her back to Ascot—three in a row," Ward said.
Ward previously put the final touches on his defending Madison winner Kimari , sending her through six furlongs in 1:14 4/5 April 1.
Bell's the One, Trobiritz Drill for Pessin

Lothenbach Stables' Bell's the One worked a half-mile in company in :49 3/5 on a fast track Saturday as she completed her major preparations for an expected season debut in next Saturday's $500,000 Madison Stakes (G1). She finished second in last year's Madison and third in the 2020 edition.
With jockey Corey Lanerie aboard, Bell's the One started about four lengths behind workmate Grove Daddy  and was three lengths in front at the wire. 
"This is the first time I have been on her since November (when she won the Dream Supreme Stakes at Churchill Downs)," Lanerie said. "She feels great and it is like she never missed a beat. Her last eighth this morning was :11." 
Trainer Neil Pessin was happy with the 6-year-old mare's return to Keeneland, where she was last seen winning the Thoroughbred Club of America (G2) in October.
"I didn't want anything real fast," Pessin said. "All of her major work was done at Fair Grounds (where she had eight works following a 2½-month break)." 
Bell's the One, winner of the 2019 Lexus Raven Run Stakes (G2), has three Keeneland victories on her resume starting with an allowance score at the 2018 fall meet. Since that initial Keeneland victory, Bell's the One has won nine stakes, five of which were graded, highlighted by the 2020 Derby City Distaff (G1) at Churchill Downs. 
"From Day One, I thought she was a graded stakes filly," Pessin said of his star, who has banked more than $1.5 million. "I just didn't know she would be a grade 1 filly." 
Also working for Pessin was Brereton Jones' homebred Trobairitz , who covered five furlongs in 1:03 2/5 with Lanerie aboard in preparation for the $400,000 Appalachian Stakes Presented by Japan Racing Association (G2T) April 9.
"She finished up well and if all is good tomorrow, we are ready to rock and roll," Pessin said. "She is coming off two wins going 5 1/2 (furlongs) and I know it's a gamble, but I think she can get a mile." 
Also working toward the Madison on Saturday was P. Dale Ladner's Cilla , who covered a half-mile in :48 2/5 for trainer Brett Brinkman. The Louisiana-bred filly finished third in last fall's Lexus Raven Run. 
Another work of note on the main track was Susan Evans and Cathy Sweezey's Circle Back Jack  (three furlongs in :36 3/5) for the Palisades for trainer Sarah Hamilton.