Best Pet Insurance Companies in June 2022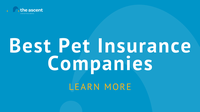 Who needs pet insurance?
According to a survey, the top reason pet owners buy pet insurance is that they want to make decisions about their pet's healthcare without worrying about whether they can afford the procedure. Pet insurance is for pet owners who want an insurance policy that will help offset veterinary bills and create a financial safety net should their pet become unexpectedly sick or injured.
Emergency treatment for pets can be expensive. The average cost of emergency veterinary surgery for dogs and cats can run $1,500 to $5,000. Those who are financially secure and able to pay for high medical care costs for their pet may not need pet insurance. Pet owners worried about the rising cost of pet care and need help covering high and unexpected vet bills should consider a pet insurance policy.
How much does pet insurance cost?
The cost of pet insurance depends on many variables, such as the type of pet, breed, sex, age, location, annual coverage limit, and the deductible. Average premium costs can vary from $20 to $50 a month.
Accident only average premiums
Dog

Annual: $218.13
Monthly: $18.17

Cat

Annual: $133.61
Monthly: $11.13
Accident and illness average premiums
Dog

Annual: $594.15
Monthly: $49.51

Cat

Annual: $341.81
Monthly: $28.48
Wellness coverage typically costs $20-$25 per month and is rolled into comprehensive coverage policies. For most pet owners, the cost of a wellness policy is what they would pay out of pocket anyway, so it may not be worth getting a standalone wellness plan.
Is pet insurance worth it?
Pet insurance is worth the cost if you can afford the premium, you can't afford a high and unexpected vet bill, and your pet will benefit from the coverage. For older pets with many health issues, the premium amount may not be worth it since pre-existing conditions aren't covered. Due to new veterinary advancements, pets now have access to better diagnostics and treatments. Unfortunately, they come at a high cost.
Pet owners can expect to spend about $16,600 on vet care for dogs and $13,350 on vet care for cats. The number one accident and illness that made dogs visit the vet were stomach issues caused by inflammation and swallowing something dangerous. The vet cost for stomach issues can be up to $29,000.
Most plans cover up to 90% of the vet bill. If a plan can cover $1,800 of a $2,000 emergency vet bill, imagine how much it could save over the pet's life. Plans also cover prescription medication, which can be expensive over the long run. Many of the best pet insurance companies also offer tailored insights and recommendations so pet owners can improve the health and happiness of their pets.
How to choose the best pet insurance
Pet insurance is similar to health insurance for humans. They both include annual premiums, deductibles, annual limits, and copays. Different pet insurance companies offer different options, so pet owners may have to do some research to find out what the best pet insurance for their pet is.
Depending on the plan, pet insurance policies can cover:
Accidents
Surgeries
Prescriptions
Emergencies
Illnesses
X-rays
Hospitalizations
Wellness checks
Types of coverage
There are three types of pet insurance coverage: accident-only, accident and illness, and wellness coverages. Each level determines the type of care covered as well as the cost.
Although most insurers offer the three types of coverage, each plan will have differences within each plan, so it is important to shop around to compare plans.
Accident Only (AO) policies offer limited coverage. It does not cover most illnesses. It is cheaper than comprehensive coverage and is typically best for emergencies:

Accidents such as car accidents
Foreign body ingestion (swallowed objects)
Lacerations
Poisoning
Ligament tears

Accident and Illness (A&I) policies are also known as "comprehensive policies" since they cover accidents plus minor and major illnesses:

Accidents
Injuries
Chronic illnesses (such as cancer, infection, and digestive problems)
Infections
Diagnostic testing
Prescription drugs
Emergency care

Wellness policies cover routine and preventative care, such as annual check-ups, vaccinations, and teeth cleaning. These policies tend to be riders to A&I policies. If embedded with an A&I policy, they may include:

Vaccinations
Early screening diagnostics
Dental care
Consultations for proper nutrition
Pet insurance plan customizations
Different pet insurance companies will offer different kinds of coverage for a pet's medical care. Insurance companies offer additional coverage options such as emergency treatment overseas and liability coverage for injuries caused by a pet. In addition to the different endorsements that pet owners can add to the policy, pet owners have other ways to customize their plans.
Annual limit: Plans typically have an annual limit ranging from $5,000 to $20,000. Some plans offer even higher amounts, including unlimited limits. These policies however cost significantly more.
Reimbursement percentage: Pet owners can customize how much reimbursement they receive for covered veterinary costs. Reimbursement amounts can range from 70% to 90%.
Annual deductible amounts: Pet owners can choose the annual deductible amounts. They can range from $100 to $500. The higher the deductible, the lower the premium amount.
Types of illness and accidents: Many pet insurance companies allow pet owners to choose certain types of care. Common ones include:

Diagnostics: Blood tests, x-rays, MRIs, CT scans, and lab work
Procedures: Outpatient, specialty and emergency care, hospitalization, and surgery
Medication: Injections or prescription meds
Preventative care
While a basic accident and illness pet health insurance policy will cover pet owners for unexpected vet bills, adding preventative care to a place can help with expenses they are already paying for.
If pet owners are already paying more than the cost of a preventative care rider for their pet's ongoing healthcare, adding the endorsement can keep their pets healthier. Common items covered under a preventative care or wellness plan include an annual physical exam, fecal or internal parasite test, heartworm test, blood test, vaccines, flea/tick medication, routine dental cleaning, and more.
Most important factors to consider when choosing pet insurance
When shopping around for the best pet insurance company, pet owners should consider what kind of medical expenses their pet already faces, and what kinds of injuries and illnesses are worth getting insurance coverage for.
Some pet owners may decide an accident-only plan is best for them, while others may want to make sure they get comprehensive coverage that includes items such as preventative costs, like vaccinations. This can help prevent their pet from developing an illness. It is also important to consider additional costs like vet visit fees and physical therapy, which are not included in basic accident and illness coverage.
The following factors are important to consider when comparing pet insurance companies:
Cost and coverage. Pet owners should choose the policy that gives the best value based on their budget. Although pets are considered property, most pet owners see their beloved pets as family members. Some of the best pet insurance companies cover alternative medicine, such as physical therapy, acupuncture, homeopathic, hydrotherapy and chiropractic care. A good policy can provide peace of mind in case a pet experiences an unexpected injury or illness.
Reputation and stability. Pet owners should choose an insurer that has experience and knows what it is doing when it comes to providing pet insurance. Read reviews and research how long an insurer has been in business.
Claims process. Pet owners want an insurer that makes it easy to submit a claim. Since most plans require pet owners to pay the entire bill out of pocket before getting reimbursed, it is important that claims are promptly paid. Some pet insurance companies pay the vet directly, taking the pet owner out of the picture. Others use a digital process where pet owners can take a picture of the vet bill and wait to get approved within a few days.