Canada's top pet insurance providers in 2022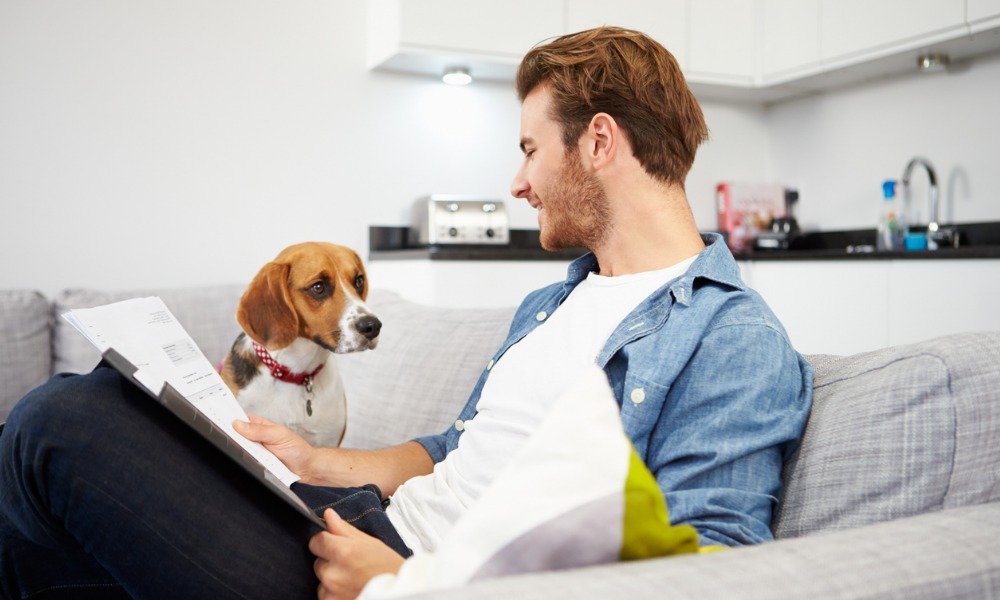 The study has also highlighted the health- and mood-boosting benefits of keeping pets, with almost all respondents saying that their pets "bring joy to their life" (98%) and "improve the quality of life" (94%). 94% of those surveyed likewise said they considered their pets a family member.
However, according to the Ontario Society for the Prevention of Cruelty to Animals (SPCA) and Humane Society, people often make the decision to bring home a pet without considering the financial commitment it entails.
Data gathered by the animal protection and advocacy group has shown that the annual average costs of caring for puppies range from $4,589 to $4,666, while those for dogs are about $3,724. For kittens, yearly expenses can range between $3,091 and $3,231, with those for cats estimated at $2,542.
Separate research by insurance comparison platform HelloSafe.ca, meanwhile, has found that the average budget allocated by Canadians to their pets in 2021 was $2,430, an increase of 17% from the past three years.
Both studies revealed that the bulk of expenses went to veterinary care, but recent figures from the North American Pet Health Insurance Industry (NAPHIA) have shown that a scant 1.2% of Canadian pet owners carry insurance, highlighting a substantial protection gap.
Read more: Dog bite incidents on the rise, could affect insurance rates – report
How does pet insurance work?
Pet insurance plans are designed to protect pet owners from the financial impact of unexpected veterinary expenses. Most policies follow a reimbursement-based model, allowing policyholders to consult or get treatment from a specialist of their choosing, but there are also a few providers that offer the option to pay the veterinarian directly.
Policies vary between insurers but each outlines which conditions and expenses are covered, reimbursement rate, deductibles, and maximum payout or annual limit. Each plan also has a waiting period before coverage kicks in. The time varies depending on the insurance company, but most require a waiting period of 14 days.
"Most people automatically think of pets as either a dog or a cat, but other animals are eligible too," HelloSafe.ca explained. "Some insurers specialize in horses. Others cover ferrets and rabbits. It is best to check with individual insurers for your animal as the health care costs and needs are so different from one animal to another."
The company added that people can also get coverage for exotic pets such as an iguana.
"Exotic pet insurance premiums can start as low as $5.99 per month," the firm said. "However, just like with dogs and cats, the price you will pay for your animal will be dependent on a variety of factors including the type of animal, breed, age, and more."
Read more: Pit bulls and Rottweilers scare insurers away: IBC
What does pet insurance cover?
Similar to coverage for US-based owners, pet insurance in Canada provides three types of protection. These are:
1. Accident and illness coverage
The most common type of coverage, accident and illness policies cover injuries caused by accidents – including broken bones, torn ligaments, bite wounds, eye trauma, and poisoning – and sickness – including skin infections, cancer, arthritis, allergies, ear infections, diarrhea, and internal parasites.
Experts advise pet owners to get this type of cover while their pets are young as many insurance providers limit illness coverage as animals age. Doing so can also help policyholders save on premiums and reduce the impact of pre-existing condition exemptions.
2. Accident-only coverage
Some insurers offer accident-only plans, which essentially covers anything associated with sudden physical injury. This type of policy usually costs less than accident and illness plans, and suits pets with pre-existing conditions.
3. Wellness coverage
This optional coverage pays out for wellness expenses, including annual physical exams, spay or neuter procedures, routine blood panels, heartworm testing and treatment, fecal testing, urinalyses, routine vaccinations, teeth cleanings, and flea and tick treatments.
How much does pet insurance cost?
Several factors impact the cost of pet insurance policies, including the pet's breed, age, gender, pre-existing illnesses, and geographical location. According to NAPHIA, the average annual premiums for dog insurance with accident and illness coverage in Canada were $767.45 in 2020. Cat insurance premiums are priced about 52% lower at $369.14. The association added during that year, more than three-fourths of in-force gross written premiums were for dog insurance.
Read more: The 5 most expensive dog breeds to insure
HelloSafe.ca pegged the cost of dog insurance at $15.20 to more than $100 each month, depending on the coverage option and deductible. Premiums prices for cat coverage, meanwhile, start at $10.10 monthly.
Is it worth taking out pet insurance?
According to experts, the biggest benefit of taking out pet insurance is peace of mind. It gives pet owners the assurance that in an event of an expensive illness or accident, they can afford to give their pets the best care possible.
"You can never predict what will happen to your dog or cat," HelloSafe.ca wrote on its website. "Insurance professionals and veterinarians can tell you, however, that if your pet sustains an illness or injury, the vet bills can be astronomical. And as many as one in three pets in Canada require emergency care during their lifetime."
"Having a policy in place for your pet allows you to choose treatments for your sick or injured pet based on the best medical option available and not your financial constraints," the firm added.
Financial products online marketplace LendEDU, meanwhile, advised pet owners to do "research and [practice] due diligence" when searching for coverage that fits their pet's needs.
"During your search, review coverage amounts, premiums, and exclusions for certain conditions. Be sure to base your decision on these factors, as well as your pet's need for coverage both now and in the future," the firm suggested. "Pet insurance in Canada is not a requirement for pet owners. However, the protection it offers can bring peace of mind to pet owners and be a smart financial investment."
Top pet insurance providers in Canada
To find out which pet insurance companies in Canada provide the best coverage, online marketplaces HelloSafe.ca and LendEDU analyzed the policies of different pet insurers, along with consumer reviews and feedback from industry organizations. These are the ones that came up on top. The list is arranged alphabetically. All details are up to date as of April 2022.
Insurer

Policy name

Coverage features




BCAA

Pet Insurance

Accident coverage: Emergency veterinary care and treatment for injuries and accidents, such as broken bones, cut paws, and swallowed objects

Illness coverage: Veterinary care, including hospitalizations, emergency care, consultations, exams, and medications, and treatment for illnesses such as diabetes or cancer

Alternative therapies: Holistic treatments such as hydrotherapy, naturopathy, and chiropractic care

Customizable coverage: Accident & Illness plans allow policyholders to choose a deductible and reimbursement amount that work best for their pet's needs

Paperless claims submission: Online claims submission with no vet stamp or clinic signature required




CAA

Pet Insurance

Accident, or Accident & Illness coverage

Optional Flex Care plans for routine and wellness treatments available

Additional benefits, such as advertising and rewards for lost pets

Alternative therapies

24/7 access to member's portal to submit claims, review plan details, and update information




Costco

Pet insurance for Costco members

Accident plan: $5,000 in annual coverage for unexpected injuries, including broken bones, cuts, or if they've been hit by a car

Accident & Illness plan: $7,500 or $15,000 annual coverage for unexpected injuries and medical conditions

Members get preferred rate plus complimentary first month




Desjardins

Gold Paw

Up to $1,000 annual dental coverage

Unlimited coverage for illness and injury-related expenses, including x-rays, hospitalization, veterinary diagnostics and treatment, prescription drugs, surgery, MRIs, and chemotherapy

Up to $350 per category coverage for alternative and behavioural therapies, and medical devices

Preventive care coverage




Fetch by The Dodo

Dog Insurance

Covers veterinary exam fees, vet visits, dental illness, breed-specific conditions, complete sick visit, injuries and illnesses, diagnostic tests, imaging and ultrasound, holistic and chiropractic care, behavioural therapy, cancer treatment, surgery, and rehabilitation

Up to 90% reimbursement rate




Ontario Veterinary Medical




Association (OVMA)

Pet Health Insurance Unlimited+

Unlimited per accident coverage

Unlimited yearly illness coverage (per condition)

Up to $600 yearly dental coverage

Up to $450 yearly wellness coverage for dogs

Up to $350 yearly wellness coverage for cats




Peppermint

Prime

80% vet bill coverage

Up $5,000 per accident coverage

Up $5,000 yearly per illness coverage

Up to $350 yearly alternative and behavioural therapies, and medical devices coverage




Petsecure

Secure 4

80% vet bill coverage, including exam fees and taxes

Unlimited per accident coverage

Unlimited per condition coverage

Up to $600 dental care coverage per year

Up to $450 wellness coverage




Pets Plus Us

Accident & Illness

Option for $7,500 or $15,000 coverage per year

70%, 80% or 90% of the veterinary bill coverage, including tax

An age-based deductible if policyholder makes a claim that year

4Life Guarantee automatically renews benefits each year for your pet's entire lifetime

No breed exclusions even health conditions associated with a breed, if they are not pre-existing when coverage starts

Underwriting upfront informs policyholders of what's covered from the start

Annual deductible




Sonnet

Pet Insurance

Up to 80% vet bill coverage, including exam fees and taxes

$2,500 yearly limit per accident and illness

$300 annual dental coverage

$350 annual coverage each for alternative and behavioural therapies, and medical devices

Surgery, medical diagnostics, and medication coverage




The Personal

Gold Paw

Unlimited accident and illness coverage

Up to $1,000 dental coverage per year

Up to $350 alternative and behavioural therapies, and medical devices coverage each annually

Preventative care coverage




Trupanion

Pet Health Insurance

Covers hereditary and congenital conditions; unidentified issues; diagnostic tests; surgeries; hospital stays; medications; veterinary supplements; herbal therapy; prosthetic devices and carts

Unlimited coverage

90% or 50% to 90% reimbursement choices

Up to $1,000 lifetime per-condition deductible choices