Medina Spirit Named Florida-Bred 2021 Horse of the Year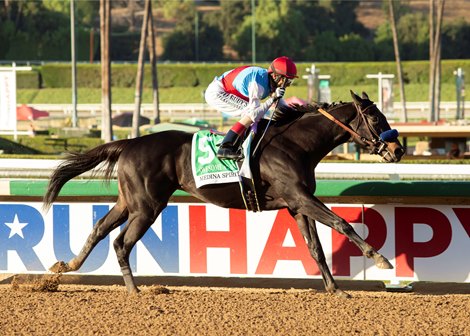 Medina Spirit  was named the 2021 Florida-bred Horse of the Year in a vote by the Florida Thoroughbred Breeders' and Owners' Association board of directors and announced at the FTBOA Awards Gala held the evening of April 25 at the Circle Square Cultural Center in Ocala.
Bred in Florida by Gail Rice, who was honored with her second consecutive Needles Award Monday evening as the Association's small breeder of the year, Medina Spirit was recognized for his victories in the Awesome Again Stakes (G1) and the Robert B. Lewis Stakes (G3), both at Santa Anita Park, and the Shared Belief Stakes at Del Mar.
Trained by Bob Baffert for Amr Zedan's Zedan Racing Stables Inc., the son of Protonico   out of Mongolian Changa , by Brilliant Speed  also won the Kentucky Derby presented by Woodford Reserve (G1) but was subsequently disqualified by the track stewards after a post-race test showed evidence of the banned substance betamethasone. The ruling has been challenged in court by Baffert and Zedan.
Mongolian Changa was also named the FTBOA Broodmare of the Year in a vote by the board.
Mrs. John Magnier, Michael B. Tabor, Derrick Smith, and Westerberg's Golden Pal  was the most decorated Florida-bred on the night having been named the Florida-bred Champion 3-Year-Old Male, Florida-bred Champion Sprinter, and Florida-bred Champion Male Turf Horse.
Golden Pal wins the 2021 Breeders' Cup Turf Sprint at Del Mar
Trained by Wesley Ward, Golden Pal became the first Florida-bred to win two Breeders' Cup events when he dominated the Breeders' Cup Turf Sprint (G1T) at Del Mar last year. In 2020, the son of Uncle Mo   out of Lady Shipman , by Midshipman   won the Breeders' Cup Juvenile Turf Sprint (G2T) at Keeneland.
Bred by Randall E. Lowe, Golden Pal's 2021 campaign also included victories in the Woodford Stakes Presented by TVG (G2T) at Keeneland and in the Quick Call Stakes (G3T) at Saratoga.
The most decorated female of the night was Shifty She , who was named the Florida-bred Champion Turf Female and Champion Older Female. During the year, Shifty She won the Noble Damsel Stakes (G3T) at Belmont Park, the Powder Break Stakes, and the Ginger Punch Stakes, both at Gulfstream Park.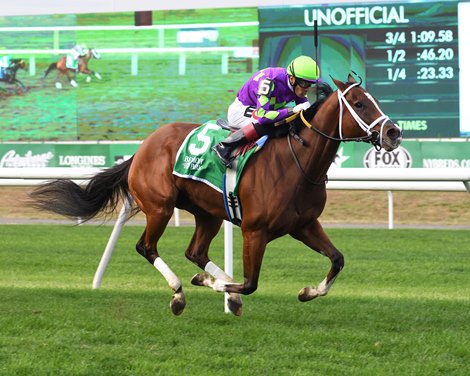 Shifty She wins the 2021 Noble Damsel Stakes at Belmont Park
Shifty She is owned by Chris Pallas and Harvey Rothenberg in the name of their Pedigree Partners and was bred by Pallas in partnership with George Klein.
Shifty She is by Gone Astray   out of Perilous Hope, by Strong Hope  and is trained by Saffie Joseph Jr., who also took home the trophy as the Leading Trainer of Florida-breds by stakes wins at Florida tracks with seven.
Pappacap , a homebred for George and Karen Russell's Rustlewood Farm Inc., was named the Florida-bred Champion 2-Year-Old Colt based on his victory in the Best Pal Stakes (G2) at Del Mar. He was also second in the TVG Breeders' Cup Juvenile presented by Thoroughbred Aftercare Alliance (G1) at Del Mar and second in the American Pharoah Stakes (G1) at Santa Anita.
Trained by Mark Casse, Pappacap is by Gun Runner   out of Pappascat , by Scat Daddy .
The Florida-bred Champion 2-Year-Old Filly of 2021 is Outfoxed , who romped to victory in the last two legs of the FTBOA Florida Sire Stakes divisions for fillies. Trained by Hall of Famer Bill Mott, Outfoxed won the Florida Sire Stakes Susan's Girl by 13 1/2 lengths and the Florida Sire Stakes My Dear Girl by nine-and-a-quarter lengths.
Outfoxed is owned by Larry, Nanci, and Jaime Roth's LNJ Foxwoods and was bred by Charles and Susan Chu under the banner of their Baoma Corp. She is by Valiant Minister   out of Savingtime , by Kantharos  .
Livingmybestlife  was named the year's Florida-bred Champion 3-Year-old Filly. Her stakes résumé from 2021 included the Lucky Spell at Los Alamitos and the Seashell at Del Mar.
Livingmybestlife is owned by Hronis Racing and was bred by Alex and JoAnn Lieblong. She is by The Big Beast   out of Wall Street Lady, by Speightstown, and is trained by John Sadler.
For the second time in his career, Firenze Fire  was named a Florida-bred champion when he was honored as the 2021 Champion Older Male. A homebred for Ron Lombardi's Mr. Amore Stable, Firenze Fire was also named the Florida-bred Champion 2-Year-Old Male of 2017.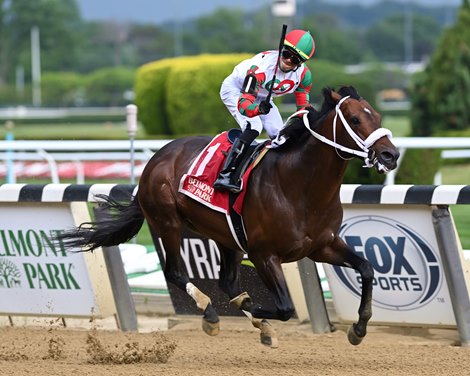 Firenze Fire wins the 2021 True North Stakes at Belmont Park
At the age of six in 2021, Firenze Fire won the True North Stakes (G2) and Runhappy Stakes (G3), each for a second time and both at Belmont Park. He finished his illustrious career with a record fifth appearance in the Breeders' Cup, finishing out of the money in the Qatar Racing Breeders' Cup Sprint (G1).
Trained by Kelly Breen, Firenze Fire is a son of Poseidon's Warrior  out of My Every Wish, by Langfuhr and finished his career as the twentieth all-time richest Florida-bred with earnings of $2,730,350.
Sound Machine  was named the Florida-bred Champion Female Sprinter for 2021 having won the Musical Romance Stakes at Gulfstream Park. Another champion trained by Saffie Joseph Jr., Sound Machine was also second in the Hurricane Bertie Stakes (G3) and third in the Princess Rooney Invitational Stakes (G2), both at Gulfstream.
Sound Machine is owned by Bob Edwards' e Five Racing Thoroughbreds and was bred by Vincente Perez's Farm III. She is by Into Mischief   out of Ava Pie, by Distorted Humor.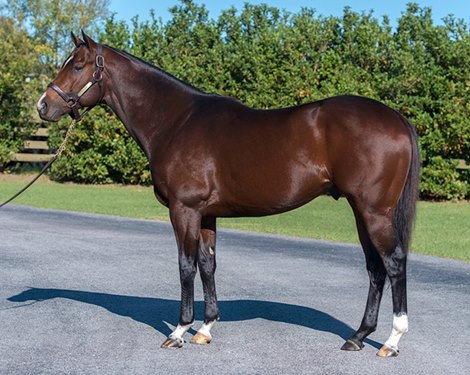 Khozan at Journeyman Stud
For the second consecutive year, Journeyman Stud stallion Khozan   was the Stallion of Year for Florida. With progeny earnings of $3,671,794 in 2021 Khozan was represented by 78 winners from 123 (63%) including Florida-bred Longacres Mile Handicap-winner Background , Grey Goose Turf Classic-winning Florida-bred Me and Mr. C , and three other graded stakes-placed winners. His leading earner in 2021 was stakes-placed Don't Get Khozy , who earned $211,372.
The leading freshman sire in Florida during the year was Neolithic  , who stands at Pleasant Acres Stallions. Neolithic had progeny earnings of $636,849 and was represented by six winners from 14 starters including Florida-bred stakes-winners Make It Big  and Cattin .
The Sunshine State's leading juvenile sire for 2021 was Arindel's Brethren   who had eight juvenile winners from 21 2-year-old starters who earned $809,444. His top money earner was multiple stakes-winning Florida-bred Octane  who racked up $401,000 while winning three of four starts; and stakes-placed winner Clapton . This is the second year Brethren was the leading juvenile sire in Florida having also held the title in 2019.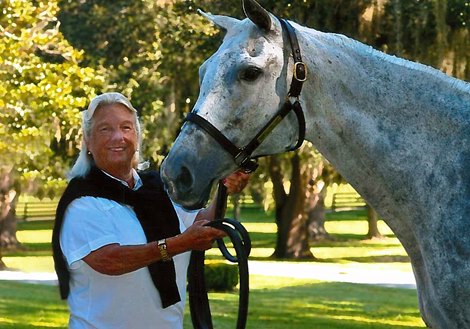 Live Oak Stud's Charlotte Weber with Win Approval
Charlotte Weber's Live Oak Stud was the Florida Breeder of the Year for the fifth time and her Live Oak Plantation was the leading owner by Florida-bred earnings with $1,989,225. Live Oak Stud recorded Florida-bred earnings of $2,434,442 and led the list of Florida-bred stakes winners with six. Her six added-money victors won nine stakes during the year, of which four were graded.
Live Oak Stud was also named the Florida Breeder of the Year in 2006, 2017, 2019, and 2020 and Live Oak Plantation was the leading owner by Florida-bred earnings in 2011, 2016, 2017, 2019, and 2020.
Francis and Barbara Vanlangendonck's Summerfield were presented with their third Joseph M. O'Farrell Memorial Award as the original consignors of the year's best Florida-bred racehorse once offered at an Ocala Breeders' Sales auction. Summerfield consigned Medina Spirit to the 2019 OBS Winter Mixed Sale. 
Carlos A. David was presented the trophy as the Leading Florida Trainer of Florida-breds by earnings with $2,217,185 on the year including two-time FTBOA Florida Sire Stakes-winner Octane.
For the fourteenth time, Kathleen O'Connell was the Leading Florida Trainer of Florida-breds by wins with 56 victories during 2021. 
Daily Racing Form also recognized Baby Yoda  as the Florida-bred with the top Beyer Speed Figure during 2021. Baby Yoda logged an electrifying 114 Beyer with a four-and-a-quarter-length victory in a first-level allowance over six-and-a-half furlongs in 1:14.93 on a fast track at Saratoga Sept. 4. Baby Yoda is by Prospective  out of More Than Speed, by More Than Ready   and was bred by Kathleen Amaya, Alexandro Centofanti, and Raffaele Centofanti. He is owned by Pantofel Stable, Wachtel Stable, and Jerold L. Zaro and trained by Bill Mott.

 
Industry News Releases – In support of Thoroughbred industry organizations, BloodHorse is posting news releases relating to the industry. The releases have not been edited by BloodHorse. If there are any questions please contact the organization that has produced the news release as directed in the news release.