'My clothes haven't killed anything': Stella McCartney says it with horses on Paris runway | Stella McCartney
Stella McCartney opened her winter show not with pyrotechnics or a light display but seven dappled grey horses galloping around the sandy equestrian centre of France's oldest riding school, L'École Militaire.
It was the first time the British designer had shown living animals on the catwalk, but that was the point. "There is so much leather, fur and feathers on these runways, particularly in winter. I just wanted to show that you could show animals in a different way," she said.
There was some front row chatter about the display, choreographed by the horse whisperer Jean-François Pignon. Some found it distracting, others worse. McCartney was at pains to reassure the audience that the horses were "trained by him in a cruelty-free way" and "accustomed to being around large groups of humans", the brand said in a statement. Backstage, McCartney added: "The difference is that these animals are alive and my clothes haven't killed anything."
The most striking examples of this were the outerwear and the bags. The coats and jackets were long with pointy shoulders and cropped with nipped-in waists, and came in red, black and white versions of quilted vegan leather alternative and responsibly sourced yarn. The "leather" bags and boots were made from grapes, apples and mushrooms.
In the label's 22 years, McCartney has never used leather, feathers, fur or skins, making her a fashion outlier. Although almost every label has now banned fur, and while it is rare to see a show that doesn't nod in some ways towards "sustainability", leather has featured in almost every Paris show. McCartney's aim has always been to prove that you can make "beautifully designed clothes" using alternative materials, the idea being that you shouldn't be able to tell the difference between the two.
If the vocabulary can feel overwhelming at times – "forest-friendly viscose satin" is a bit of a head-scratcher – she's keen to point out that while "it doesn't seem that exciting, in science it's a big deal", she said. "Every time you eat an apple, you're basically eating a handbag." For the first time, she said, the label has also been able to dye the mushroom leather, meaning the difference between real and fake is imperceptible.
As fashion's leading voice of that easy, breezy, cool-girl-at-school aesthetic as much as she is of sustainability and animal rights, it's not simply a case of balancing the eco-books. It's about selling clothes. Being who she is – a McCartney, and former It girl – she's savvy enough to know that her childhood and past can feed into her work.
Her most famous collection when she worked at Chloé featured horse prints in 2001. A keen rider, she made knitwear based on horse blankets and transplanted a photograph of a rearing horse by her sister Mary and another by her late mother, Linda, on to flapping regenerative cotton shirts and lace-detailed slip dresses. Q Lazzarus's Goodbye Horses also played through the equestrian public address system.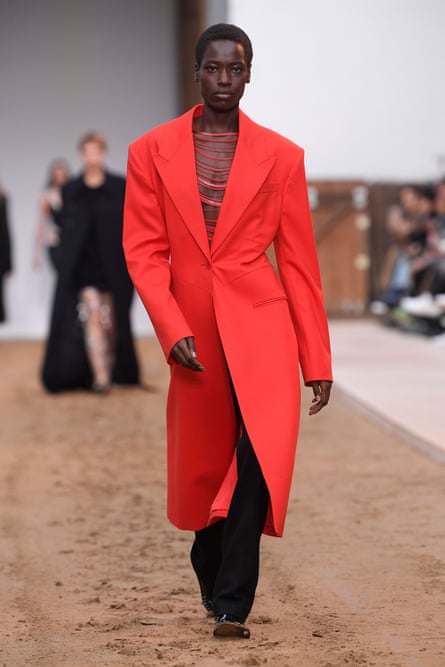 As much a fashion revisionist as a revolutionary – the designer made her name around the new millennium – the rest of the collection was characterised by her signature low-slung 00s waistlines. From the shrunken boho waistcoats to the banana-shaped trousers and ultra-slim "hipsters" with built-in body chains, Y2K fashion really isn't going anywhere.
McCartney's commitments have put her in a curious position as an environmentalist and activist within the luxury fashion industry. She insists: "LVMH [the conglomerate that part owns Stella McCartney] have been open to the whole concept – I mean, they're letting me sit here and talk about the relationship between killing animals and making fashion."
Yet the question over making animal-free clothes affordable to a mass market remains one of fashion's sticking points. "At least we're all in this together," she said.