Parker: Telsec creating new home in prime location for retail giants Lammle's, Homes Alive Pets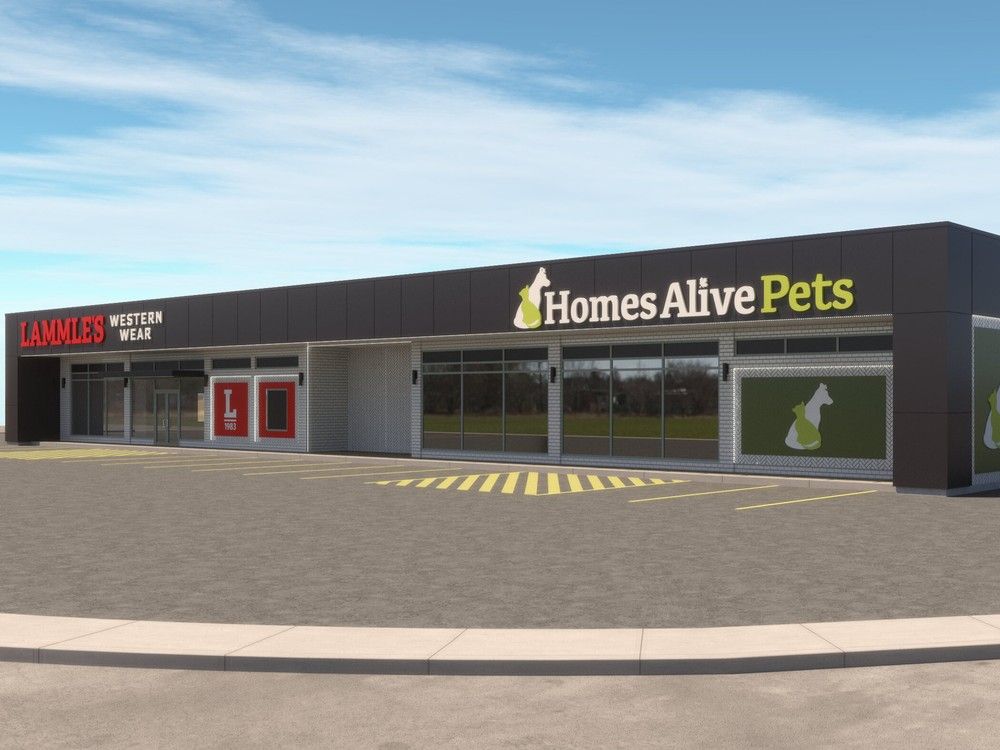 Article content
One of the most prominent corners in this city has to be the crossroads of Macleod Trail and Glenmore Trail. For many years, the southwest corner of the two major arteries was home to Jack Carter Chevrolet. Empty for the past 15 years except for temporary leases to seasonal retailers, it was purchased two years ago by Telsec Property Corp. which has since been planning the best way to redevelop the site.
Article content
One option was to knock down the showroom and rebuild, but the decision has been made to keep the 36,500-square-foot, single-storey, well recognized showroom and convert it to retail space, making use of its prime location across from Chinook Centre.
Article content
Gibbs Gage Architects was retained to redesign the exterior, and the inside is being gutted to make way for two well-known retail operations.
The 8,000 square feet facing onto Macleod Trail will be a new home for Lammle's Western Wear, proudly owned by the Lammle family since 1983. From its launch in Calgary, it has grown to 22 stores throughout Western Canada, supplying best-in-class brands designed for rural or urban western life.
The new location will mean the closure of its Chinook Centre store, but Barry Lammle and his son, Jeff, along with the Telsec team are working hard to get the new store open before this year's Stampede.
Article content
Homes Alive Pets, an Edmonton-based company, has leased the remaining 28,500 square feet on the main floor plus another 13,000 square feet on the lower level.
Serving pets and pet lovers for more than 30 years, the family-owned enterprise that prides itself in offering a higher standard of pet care has stores in Edmonton and Lethbridge, and Langley and Kelowna in B.C., and has been searching for the right location in Calgary for some time.
The Telsec property is ideal with its prime location, and plentiful customer space on the main floor and in the basement, which provides good warehousing space for its huge and growing e-commerce business.
Ample street level parking is also a big plus for shoppers of both retailers.
Article content
Telsec is looking after services such as electrical and plumbing, but the retailers will design their own shelving to best suit their stock requirements.
Telsec is enjoying a successful, rewarding time. It has a huge portfolio of 550,000 square feet of industrial buildings, and all of it is currently fully leased. Leasing the entire Jack Carter property is a big plus, following on the leasing of a building it purchased in Forest Lawn — now occupied by the Salvation Army for additional program space — and Planet Fitness Club.
Its Crowfoot 75 office building on Crowfoot Rise is preparing to welcome a cardiology group to the entire second floor, with the help of Bob MacDougall of Cresa Calgary.
Last year, Telsec bought the former YMCA building in the Eau Clair district of downtown and is working on plans for its future.
Article content
Sean Flathers, leasing and marketing director at Telsec, says 25,000 square feet of retail on the main floor of Shawnessy Station is 75 per cent leased through Taurus Group. It is a mixed-use joint development with Trico Communities that is leasing the 169 residential suites on the five floors above.
Notes:
Brookline Public Relations has amassed a huge number of awards since it was launched by principal and founder Shauna MacDonald 18 years ago. Many have been for successful campaigns, communications strategies and its business acumen, but MacDonald is most appreciative of its recent recognition as Great Place to Work Certification for 2022, and others awarded as a result of a survey conducted with her staff. Additional badges included certification for workplace professional development, professional services and mental wellness. They come as a result of Brookline's busyness, with all staff kept working hard for its growing number of clients. MacDonald is proud of client work that she has ramped up due to Brookline's expertise in Indigenous communications — with Alberta Indigenous Opportunities Corp., Steel River Group, Axxelus, and Tobacco Plains Nation in B.C. Brookline also recently announced it will be providing management of internal and external relations for new clients Alberta Cancer Foundation and Mosaic Primary Care Network.
David Parker appears regularly in the Herald. He can be reached at 403-830-4622 or by email at [email protected].