Penguin at Edinburgh Zoo promoted to Key Common in Norway military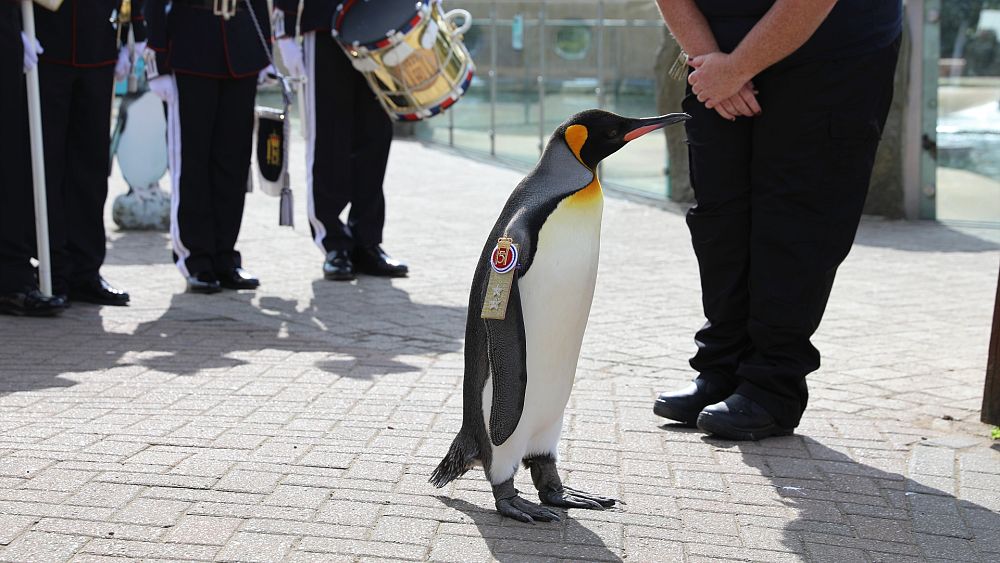 Important General Sir Nils Olav III, Baron of the Bouvet Islands, is now the most extremely adorned penguin in the earth – probably even the universe.
A penguin has been promoted to the third greatest rank in the Norwegian Armed Forces. 
Sir Nils Olav III, a resident of Penguin's Rock in Edinburgh Zoo, was provided the honorary title of Big Common in the King's Guard of Norway on Monday, as their official mascot. 
Some 160 uniformed troopers visited the Scottish zoo to bestow the exclusive honour upon the king penguin, involving significantly military services pomp and circumstance. 
The adorned chook, already a Brigadier, now has the grandiose title of Big Common Sir Nils Olav III, Baron of the Bouvet Islands.
But the armed forces large wig – who even wears his epaulettes – is a single in a very long line of king penguins to serve in the Norwegian Armed Forces. 
In 1961, the Norwegian King's Guard visited the Royal Edinburgh Navy Tattoo for a drill and a lieutenant named Nils Egelien fell in love with the zoo's penguin colony.
He considered the march of his unit bore an uncanny resemblance to how the black and white chicken walked.
A decade later on when Egelien returned to the Scottish funds he arranged for King's Guard to adopt a penguin. This a person was named Nils Olav in honour of Nils Egelien and King Olav V of Norway, who was on the throne at the time.
Every single time the Scandinavian troopers have frequented Scotland their penguin has been promoted, although new birds have taken up the mantle from the aged. 
The ceremonial troops also mail fish and Xmas playing cards each individual calendar year.
Adhering to a cautiously choreographed parade earlier His Majesty the King's Guard Band and Drill Crew of Norway, who are carrying out at The Royal Edinburgh Army Tattoo this 12 months, Sir Nils was awarded his new badge at a exclusive ceremony. 
The honour suggests he outranked the soldier he was named following in the 70s. 
"I am delighted to congratulate Sir Nils Olav III on his promotion to Important Typical," explained Jason Barrett, Main Working Officer at The Royal Edinburgh Armed forces Tattoo. 
He praised the "abundant history, honour and tradition" brought by His Majesty's Kings Guard of Norway, declaring they have been a "favorite admirer for decades". 
Three incarnations of Nils Olav have worked their way up the ranks. 
He began as a mascot in 1972, turning out to be corporal in 1982 sergeant in 1987 regimental sergeant significant in 1993 honourable regimental sergeant big in 2001, and colonel-in-main in 2005.
The regal black, white and yellow bird was knighted in 2008 – individually authorized by King Harald V of Norway himself – and grew to become a brigadier in 2016. 
"His marketing this August, for fantastic conduct and for currently being a superb instance for the relaxation of the penguins at the Edinburgh Zoo, is a milestone in his profession as mascot for the guard," said Staff Sergeant Fredrik Gresseth from His Majesty the King's Guard Band and Drill Staff of Norway. 
The initially king penguin itself was presented to Edinburgh Zoo when it opened in 1913 by a Norwegian delivery magnate.  
David Discipline, Chief Executive of the Royal Zoological Culture of Scotland, described Monday's ceremony as "a really very pleased second and represents the ongoing shut collaboration amongst our two international locations, Scotland, and Norway." 
Officer Nils Egelien died on 11 December 2020, aged 87.