Best Pet Insurance Companies of July 2023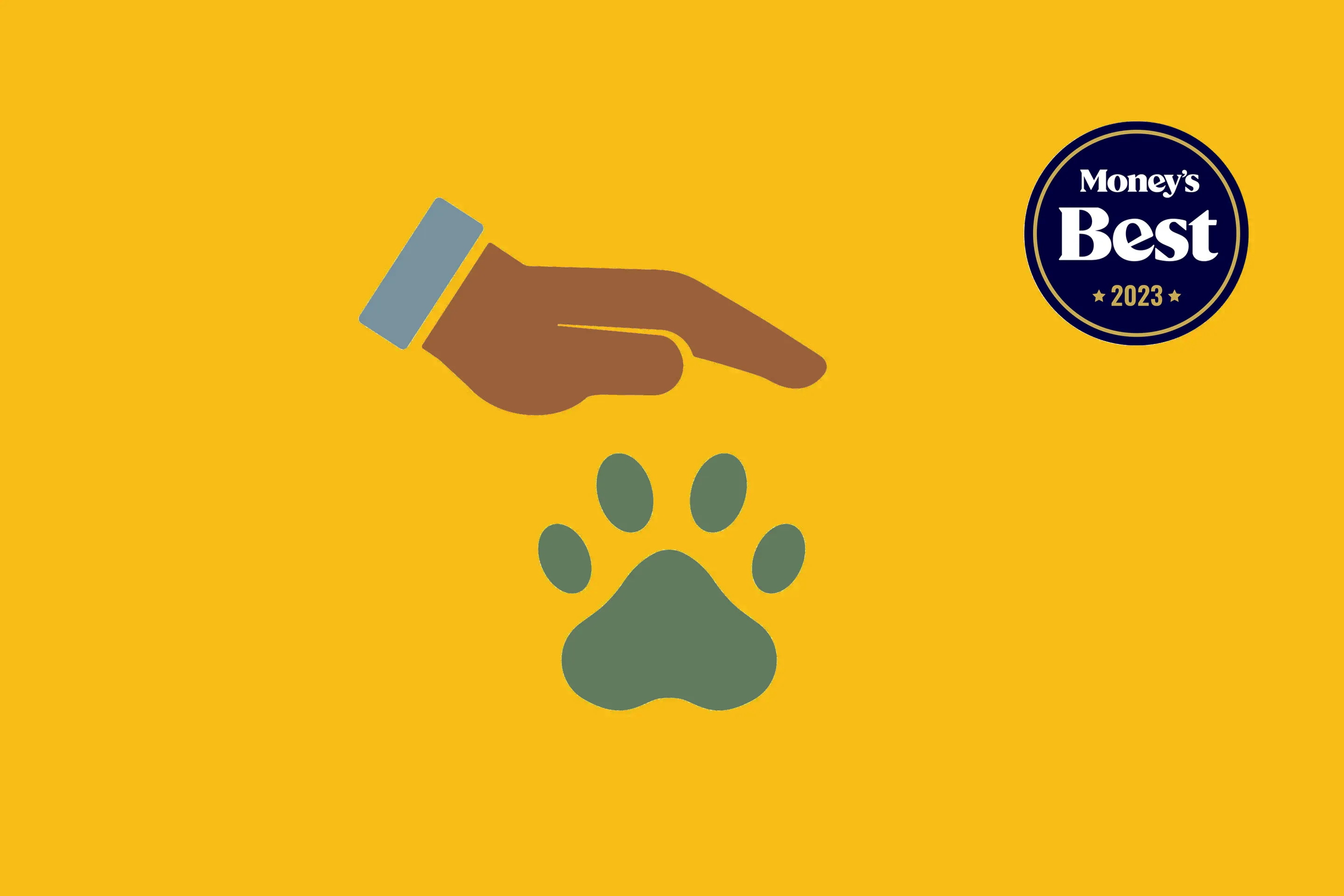 Looking for alternative ways to pay for your pet's medical expenses? Pet insurance could be the answer. Most policies reimburse up to 90% of the vet bill when your pet gets seriously sick or injured. That said, those new to pet insurance might have a lot of questions — there are many pet insurance plans to choose from and zeroing in on the best one takes some time.
Check out our pet insurance guide if you want to take the guesswork out of comparing pet insurance plans. And if you're ready to buy a policy, read on for our reviews of the best pet insurance companies on the market today.
Our Top Picks for Best Pet Insurance of July 2023
Honorable Mentions: Healthy Paws, ASPCA, Fetch by The Dodo, Many Pets, Metlife Pet Insurance and Banfield Pet Hospital.
Best Pet Insurance Company Reviews
Sample premiums are based on quotes for a 5-year-old Maine Coon and a 5-year-old German shepherd from Colombia, South Carolina.
| | |
| --- | --- |
| Annual payout limit | $2.5K, $3K, $5K, $7K, $10K or unlimited |
| Reimbursement rates | 70%, 80% or 90% |
| Deductible | $100, $250, $500, $750 or $1K |
| Discounts | 10% employee, 10% multi-pet |
| Sample premiums for cats | $17.97 |
| Sample premiums for dogs | $27.93 |
Why we chose Spot
We picked Spot as the best pet insurance for unlimited coverage because it caters to pet parents who want to maximize their pet's coverage, no matter the cost. Spot is also a fine choice for older pets since there's no age limit for coverage.
Unlimited annual coverage available
No upper age limit
24/7 telehealth helpline
Pet owners have 270 days (around eight months) to file a claim
Higher-than-average premiums for young pets
Charges transaction fees for monthly, quarterly or semi-annual payments
Offering a full (100%) coverage option, Spot readily allows you to maximize your pet's coverage, meaning you are not responsible for any co-payment. In addition, the company offers a very low ($100) deductible option, which further reduces your out-of-pocket payments for care.
That said, choosing one or both of a low co-payment and a low deductible will lead to higher premiums for the policy. And Spot's prices are already higher than the norm for young pets, although the company has no upper age limit for insuring new animals — which may make it a good choice if your furry companions are elderly.
Read Spot Pet Insurance Review >>
| | |
| --- | --- |
| Annual payout limit | $10K, $20K or unlimited |
| Reimbursement rates | 90% |
| Deductible | $100, $250, $500 or $1K |
| Discounts | 10% multi-pet |
| Sample premium for a kitten | $35.62 |
| Sample premium for a puppy | $52.89 |
Why we chose Pumpkin
Pumpkin is our pick as the best pet insurance for puppies and kittens because it offers a lot for comparatively little. It provides extensive insurance and non-insurance preventive care options tailored to junior animals at an affordable price point.
Preventive care packages for the particular needs of puppies and kittens
No upper age limit
Short (14-day) waiting period for all conditions, including knee and hip dysplasia
No customizable reimbursement levels
No accident-only option
Preventive plans don't reimburse for spay/neuter surgeries or dental cleanings
Pumpkin offers affordable plans with an option to add preventative care packs for young cats and dogs that aren't included in standard coverage. For example, the company's puppy preventive care packs include one annual wellness exam fee, four puppy vaccines and one yearly fecal test.
Pumpkin will also refund the cost of up to four vaccines your puppy may have received prior to being insured under the preventive pack, as well as covering lab tests for parasites.
However, Pumpkin Preventive lacks dental cleanings and spay/neuter surgeries, and (unlike most companies) it won't reimburse you if you purchase a separate wellness package.
Read Pumpkin Pet Insurance Review >>
| | |
| --- | --- |
| Annual payout limit | $2.5K, $5K, $7.5K,$10K, $15K, 20K, Unlimited |
| Reimbursement rates | 70%, 80%, 90% |
| Deductible | $100, $250, $300, $400, $500, $600, $750, $1K |
| Discounts | 5% multi-pet |
| Sample premium for cats | $17.68 |
| Sample premium for dogs | $28.95 |
Why we chose AKC
We picked AKC as the best pet insurance for pre-existing conditions because it's the only provider that covers illnesses and injuries sustained before the policy effective date or during the waiting period.
Accident-only plan option available

Direct payments to vets available under certain conditions
Offers supplemental accident and illness coverage for breeding pets
Coverage for congenital and hereditary conditions costs extra

No dental coverage except tooth extractions due to injury
Pets aged nine years or older are not eligible for accident and illness coverage
The American Kennel Club's (AKC) pet insurance policy offers unprecedented coverage for pre-existing conditions. To qualify, you must keep the policy active for 365 days. Any pre-existing issue that was initially excluded will be fully covered once the waiting period elapses and the policy renews.
AKC's policy covers diagnosis and treatment for eligible accidents and illnesses, including services such as:
Labs
X-rays
Ultrasounds
MRI and CT scans
Surgery and hospitalization
Physical and alternative therapy
Medication
Chemotherapy
Euthanasia
You can also pay extra for preventive care and coverage for end-of-life expenses, veterinary exam fees, behavioral therapy, hereditary and congenital conditions and issues related to breeding.
Pet owners should note some limitations regarding AKC's coverage. There's no coverage for dental illnesses, and hereditary and congenital conditions aren't covered unless you purchase the HereditaryPlus rider. Residents of Florida, California and Washington must enroll their pet before its second birthday to qualify for this add-on.
| | |
| --- | --- |
| Annual payout limit | $5K,$10K or unlimited |
| Reimbursement rates | 70%, 80%, 90% or 100% |
| Deductible | $100, $250, $500, $750 or $1K |
| Discounts | 5% multi-pet |
| Sample premium for cats | $12.68 |
| Sample premium for dogs | $31.85 |
Why we chose Figo
Most competitors only offer up to 90% reimbursement. Figo stands out as the best pet insurance for reimbursement options because pet owners can choose up to 100% reimbursement without annual payout limits and avoid copayments entirely.
Up to 100% reimbursement with no annual limits
No upper age enrollment limit
Low deductible options
Free 24/7 vet helpline
1-day waiting period for accidents
No coverage on hereditary conditions if the pet is enrolled after 2nd birthday
Low payout limits in wellness plan
Exam fee coverage and physical therapy need a separate rider
Figo offers pet owners the option to reduce their copayment to 0%, thanks to its 100% reimbursement option. (Generally, the lowest copayment provided by other insurers is 10%.)
Be prepared to pay higher than average premiums for a policy with 0% copay, unlimited payout benefits or both. Figo also enforces strict limits on its coverage for hereditary conditions such as hyperthyroidism, renal disease and intervertebral disc disease (IVDD).
Additionally, benefits such as the exam fee reimbursement and physical therapy are only available as separate riders — other providers include these benefits in their base policy.
Figo's Pet Cloud app features comprehensive mobile support. With the app, you can contact a licensed veterinarian 24/7, manage your pet's insurance documents and make payments, among other transactions.
Read Figo Pet Insurance Review >>
| | |
| --- | --- |
| Annual payout limit | $5K, $8K, $10K, $15K or $30K |
| Reimbursement rates | 70%, 80% or 90% |
| Deductible | $100, $250, $500, $750 or $1K |
| Discounts | 10% multi-pet, 5% military and diminishing deductible |
| Sample premium for cats | $24.08 |
| Sample premium for dogs | $37.17 |
Why we chose Embrace
We picked Embrace as the best pet insurance for international coverage because policyholders are free to use any licensed veterinarian worldwide and request reimbursement, even if they're traveling for a long time.
High upper age limit for enrollment
High annual reimbursement limit option compared to other competitors with annual caps
Yearly diminishing deductible
48-hour waiting period for accidents
Limited wellness benefits
Caps dental illness coverage at $1,000 a year
Embrace offers coverage for your pet's vet care outside the country for up to six months, provided it's given by a licensed veterinarian. This is relatively uncommon, as other companies only reimburse claims when the care was dispensed by a licensed veterinarian in the U.S. or Canada.
Another benefit of Embrace pet insurance is its shrinking deductibles. Every year you don't receive a claim reimbursement, Embrace will reduce your annual deductible by $50.
All policies come with a 30-day money-back guarantee or a pro-rated refund — if you've already filed a claim within that time frame.
Embrace doesn't offer wellness benefits as a separate policy. Instead, pet owners can sign up for the Wellness Rewards plan and contribute a specific amount to cover preventive care expenses. Make sure your annual contributions match the expected level of preventative care, as unused funds don't roll over for the following year.
Embrace is also the insurer behind USAA Pet Insurance, a members-only insurance product. Military members, veterans and eligible relatives can access all of Embrace's pet insurance benefits at a 25% discount.
Read Embrace Pet Insurance Review >>
| | |
| --- | --- |
| Annual payout limit | $2.5K, $5K, $10K or unlimited |
| Reimbursement rates | 70%, 80% or 90% |
| Deductible | $50, $100, $250, $500 or $1K |
| Discounts | 5% multi-pet |
| Sample premium for cats | $14.47 |
| Sample premium for dogs | $36.44 |
Why we chose Pets Best
Pets Best has a wide range of coverage options and deductibles, and it offers coverage for pets as young as seven weeks. It's also one of the few pet insurance companies that cover prosthetic devices and wheelchairs.
Coverage for prosthetic devices and wheelchairs




Wide range of deductibles

Covers pets as young as seven weeks with no upper age limit
Direct payments to vets available upon request
Slow claims processing



Excludes alternative treatments and therapies

Policy upgrades are not available until the renewal date
Pets Best offers accident and illness plans and sells multiple wellness add-ons to cover your pet's routine care. There's a short 3-day waiting period for accidents and the standard 14-day waiting period for illnesses.
Insurers don't always cover treatments for mobility issues, but Pets Best provides coverage for wheelchairs and prosthetic devices when prescribed by a veterinarian to treat a covered accident or illness.
Additionally, the company offers comprehensive physical therapy coverage as an add-on, encompassing acupuncture, electroacupuncture, chiropractic care, treadmill therapy, laser therapy, therapeutic exercises, ultrasound therapy, gait training and other treatments.
Pets Best's take-home prescription rider is also noteworthy. The add-on covers not just prescription medications, but over-the-counter drugs, supplements, remedies and treatments as long as they're prescribed by a veterinarian. That said, there's no coverage for alternative therapies and holistic treatments that might benefit your pet's recovery.
Read Pets Best Pet Insurance Review >>
| | |
| --- | --- |
| Annual payout limit | $5K, $10K, $20K, $50K or $100K |
| Reimbursement rates | 70%, 80% or 90% |
| Deductible | $100, $250 or $500 |
| Discounts | 5% multi-pet |
| Sample premium for cats | $12.30 |
| Sample premium for dogs | $27.80 |
Why we chose Lemonade
We picked Lemonade as the best pet insurance for speedy claims. The company uses novel, AI-powered processing, which promises to deliver claims very quickly via the Lemonade app. The ability to direct a part of the company's profit to a charity of your choice may also appeal to many pet owners.
Quick claims processing — in minutes rather than weeks via mobile app


Multiple discounts available
A portion of payments go to charities
Customizable coverage
Only available in 38 states
Policies can only be adjusted at renewal
Older pets may not be eligible for coverage
Lemonade's accident and illness policy covers diagnostics, procedures and medications for covered conditions. Vet visit fees, dental illnesses, end-of-life services, acupuncture and chiropractic care are excluded from the base policy (which may translate to lower premiums) but you can add these benefits as riders if they're available in your state.
Pet owners can further enhance coverage with a preventative care rider that reimburses the cost of annual checkups, vaccines and parasite screening.
Lemonade is available in 38 states, but you can sign up for updates on its website. However, users may find Lemonade's website hard to navigate. To get a quote, you have to input a lot of information that other insurers don't require. Also, if you have questions the automated chat can't answer, talking with a live agent via chat isn't possible.
Read Lemonade Pet Insurance Review >>
| | |
| --- | --- |
| Annual payout limit | Unlimited |
| Reimbursement rates | Custom percentage from 70% to 100% |
| Deductible | No deductibles |
| Discounts | 10% multi-pet |
| Sample premium for cats | $54.56 |
| Sample premium for dogs | $112.08 |
Why we chose Trupanion
Usually, pet owners have to pay the vet bill in full before receiving reimbursement from pet insurance providers. With Trupanion's direct payment software, your vet can file a claim in-office and receive payment almost immediately.
Policyholders can set their deductible to $0
No payout limits for any benefits (per incident, monthly or lifetime)
Free 30-day coverage with partnering shelters, breeders or vets
Covers pets from birth
High premium rates
Only one plan option
No multi-pet discount

Trupanion offers a single insurance plan for cats and dogs. In addition to standard benefits, Trupanion covers alternative treatments, dental illnesses, prosthetic devices and prescription food. You can also purchase this plan through GEICO pet insurance or State Farm pet insurance.
Trupanion features several unique benefits: direct payment to vets, coverage for breeding and working pets in select categories and a lifetime deductible per condition. If your veterinarian uses Trupanion's direct payment software, you don't need to file a claim; Trupanion pays the vet directly. Policyholders, then, need not worry about making costly upfront payments or submitting reimbursement claims, which are standard for most of the pet insurance industry.
Trupanion lacks affordability and flexibility – premiums are high and there's only a single policy option. However, its coverage is comprehensive. If you can afford higher-than-average premiums, your pet will benefit from 90% reimbursement on all eligible claims and no payout limits per incident, year or lifetime.
Read Trupanion Pet Insurance Review >>
| | |
| --- | --- |
| Annual payout limit | $10K |
| Reimbursement rates | 50% or 70% for Whole Pet plan |
| Deductible | $250 |
| Discounts | 5% multi-pet |
| Sample premium for cats | $52.47 |
| Sample premium for dogs | $96.29 |
| Sample premium for rabbits | $41.70 |
Why we chose Nationwide
We picked Nationwide as the best pet insurance for exotic pets because it offers comprehensive insurance for various unconventional animals. Pet owners can relax knowing up to 90% of their expenses for such animals are covered by a reputable insurer.
No per-incident, annual or lifetime caps
Covers alternative therapy for diagnosed conditions
Direct payments available under certain conditions
Limited coverage for hip dysplasia
Only a single policy offered
No coverage for behavioral modification or prescription food
Nationwide is the only pet insurance company of its size that offers insurance for avian and exotic pets. The Avian & Exotic Pet Plan covers most birds, rabbits, reptiles and small mammals, including goats and pot-bellied pigs. (Note that any animal not explicitly listed on the Nationwide website isn't eligible, including those listed under venomous or endangered species.)
Owners of exotic pets can select up to 90% reimbursement for covered accidents and illnesses and add preventive care riders as well. Just as with dog and cat insurance, pre-existing conditions are excluded from coverage.
For exotic pets, Nationwide offers three accident and illness policy options and two wellness care packages. Exotic pet owners must call (844-244-3691) to get a quote or sign up. However, cat and dog insurance is easy to get directly on Nationwide's website.
Read Nationwide Pet Insurance Review >>
Other pet insurance companies we considered
In narrowing down our list, these companies stood out in some respects but didn't quite match the strengths of our top picks.
Healthy Paws Pet Insurance
No per-incident, annual or lifetime caps
Quick claim processing
Covers alternative therapy for diagnosed conditions
Direct payments available under certain conditions
Limited coverage for hip dysplasia
Only a single policy offered
No coverage for behavioral modification
Limited coverage options for senior pets
Healthy Paws offers just one accident and illness policy for cats and dogs. It has no per-incident, annual or lifetime benefit caps, and you can choose from a $100, $200 or $500 deductible. It also offers a direct payment option instead of reimbursement if you can't afford the upfront veterinary bill.
Why Healthy Paws didn't make the cut: Healthy Paws offers a comprehensive accident and illness plan with unlimited payout limits and 90% reimbursement. However, two factors kept the company out of our top picks: 1) There is no coverage for hip dysplasia for pets enrolled after age six, and 2) the company doesn't distinguish between curable and incurable pre-existing conditions.
Read Healthy Paws Pet Insurance Review >>
ASPCA Pet Insurance
No upper age limit for enrollment

Covers stem cell therapy and microchipping
Accepts claims up to 270 days (around eight months) after treatment
Insures cats, dogs and horses (in certain states)
Warns that claim processing may take up to 30 days

Monthly payments incur a transaction fee
The website is not user friendly
The American Society for the Prevention of Cruelty to Animals (ASPCA) — underwritten by the United States Fire Insurance Company — offers affordable accident-only and accident and illness pet insurance. The company is also more flexible than competitors regarding preventive care requirements: ASPCA won't deny coverage for preventable conditions such as heartworm or tick-borne illnesses even if you fail to administer the recommended preventive medication.
Why ASPCA didn't make the cut: Both ASPCA and Spot provide identical insurance policies. Ultimately, Spot made it to our top picks due to its unlimited annual payout feature, which is not available with ASPCA, and its 24/7 pet telehealth helpline.
Read ASPCA Pet Insurance Review >>
Fetch by The Dodo Pet Insurance
Reimburses the emergency exam fees
No lifetime or per-condition limits
No upper age limit
Up to $1,000 in coverage for virtual visits
No preventive care rider or accident-only plan
Regular medical exams required
Extended waiting period for knee and hip conditions
Fetch by The Dodo is one of the few insurers that will enroll pets as young as six weeks, making it a good option for owners of young kittens that often go to their new homes at that age. Unlike other companies, Fetch also covers up to $1,000 in virtual veterinarian visits, and it will also cover veterinary-prescribed holistic and alternative therapies, such as acupuncture or chiropractic care.
Why Fetch by The Dodo didn't make the cut: Although Fetch has a 15-day waiting period for most illnesses and injuries, it has a six-month waiting period for hip and knee injuries. The extended waiting period can be waived for knee conditions if there is a veterinary exam within the first 30 days, but the waiver does not apply to hip-related injuries. Additionally, the company doesn't sell preventative or wellness coverage.
Read Fetch Pet Insurance Review >>
Many Pets Pet Insurance
No annual or lifetime payout caps
Short waiting period for accidents and injuries
Quick claims processing
Lower premiums
No coverage for hip dysplasia in pets over 6 years old
No coverage for pets 14 or older
Not available in all states
Many Pets offers a single accident and illness policy with an optional wellness add-on. In addition to the standard inclusions, the policy covers vet exam fees, alternative therapies and euthanasia and cremation expenses. It boasts quick claims processing times, and its premiums tend to be relatively low.
Why Many Pets didn't make the cut: Many Pets' accident and illness coverage isn't available in all states and it has more restrictions than other leading companies. For example, pets older than 14 years are not eligible for coverage, and the company won't cover treatments for hip dysplasia in pets that were enrolled after the age of six.
Read Many Pets Pet Insurance Review >>
MetLife Pet Insurance
Multiple discounts
Family plans available
Decreasing deductible for every year without a claim
Claim processing can take up to 10 days
No sample policy or detailed wellness benefits online
Requires 12 months of veterinary records for the first claim
Six-month waiting periods for certain conditions
MetLife Pet Insurance, which acquired PetsFirst in 2019, offers an easy online application and adjustable coverage options. You can select your maximum benefit amount, ranging from $2,000 to $25,000 (a $10,000 maximum applies in some states) and deductibles range from $0 to $2,500. You can also benefit from one or more savings programs, such as discounts for healthcare workers, group pet insurance, veterinary care providers, military personnel, veterans and first responders.
Why MetLife Pet Insurance didn't make the cut: MetLife's pet insurance policies are underwritten by two separate insurers, and the policy's terms and benefits vary depending on the insurer. Plus, the company has longer-than-typical processing times.
Read MetLife Pet Insurance Review >>
Banfield Pet Hospital
Banfield's wellness plans are frequently mistaken for pet insurance but are separate products. Banfield Pet Hospital's Optimum Wellness Plan is an annual package that focuses on preventive care and includes a host of routine care services, such as physical exams, dental cleanings and parasite screening. However, the package does not include coverage for accidents and illnesses.
Why Banfield Pet Hospital didn't make the cut: Banfield Pet Hospital offers preventive care plans for dogs and cats, not pet insurance. The Optimum Wellness plan is essentially a subscription service for your pet's preventive veterinary care, similar to the wellness add-ons that most insurance providers offer.
Includes two comprehensive physical exams per year and one dental cleaning



No need to file for reimbursement

5% to 20% off products and services that aren't included in your wellness plan
You must take your pet to a Banfield location

Costs as much as some pet insurance policies


Negative customer reviews online
Pet Insurance Comparison
Pet insurance companies often share the same underwriter but not all plans are created equal. If you compare pet insurance plans closely, you'll find that many providers cut through the noise by offering select terms and benefits.
Whether you're looking to compare dog insurance plans or explore options for other cherished pets, our pet insurance comparison table can help you choose a pet insurance plan that fits your pet's needs. We review how our top picks fare against each other based on specific factors such as direct payment to vets, veterinary telehealth and the option to add a wellness rider.
Compare pet insurance plans
| | | | | | | | | | | |
| --- | --- | --- | --- | --- | --- | --- | --- | --- | --- | --- |
| Company | Accident and illness plan | Accident-only plan | Preventive care rider | Direct payment to vets | 100% reimbursement | Unlimited payout | Vet exam fees | Behavioral modification | Physical therapy | Lost/stolen pet |
| Spot | ✓ | ✓ | ✓ | x | x | ✓ | ✓ | ✓ | ✓ | x |
| Pumpkin | ✓ | x | ✓ | x | x | ✓ | ✓ | ✓ | ✓ | x |
| Figo | ✓ | x | ✓ | x | ✓ | ✓ | x | x | x | x |
| Embrace | ✓ | ✓ | ✓ | x | x | x | x | ✓ | ✓ | x |
| Pets Best | ✓ | ✓ | ✓ | ✓ | x | ✓ | x | x | ✓ | x |
| Lemonade | ✓ | x | ✓ | x | x | x | x | x | x | x |
| Trupanion | ✓ | x | x | ✓ | ✓ | ✓ | x | x | x | x |
| Nationwide | ✓ | x | ✓ | x | x | x | ✓ | ✓ | ✓ | x |
| AKC | ✓ | ✓ | ✓ | x | ✓ | ✓ | x | x | ✓ | x |
✓= included in the base policy
x= not covered or costs extra to add
Pet Insurance Guide
You buy a home, you get homeowners insurance. You get a new car, you buy auto insurance. But would you do the same if you adopt a pet? According to the North American Pet Health Insurance Association (NAPHIA), close to half of pet owners in the U.S. purchased a pet insurance policy in 2022.
In this section, we go into the particulars of pet insurance so you know what to expect from most policies. We explain what pet insurance is, how much it costs, plan types and tips for choosing the right insurer.
Table of contents:
What is pet insurance?
Pet insurance, though marketed as health insurance, is a type of property and casualty insurance that covers pet medical expenses related to accidents and illnesses. Every company offers cat and dog insurance, though dogs are definitely the most popular beneficiaries — according to NAPHIA, dog policies account for 85% of active policies, while cats account for the remaining 15%. Most companies primarily offer cat and dog insurance — some providers extend coverage to exotic pets like birds, reptiles and rabbits, but it accounts for less than 1% of U.S. policies, according to NAPHIA.
A significant difference between pet insurance coverage and your own health insurance is that pet insurance doesn't cover routine or preventive care. Moreover, policyholders must pay the vet bill in full, submit their claim and, if the claim is approved, receive reimbursement at a later date.
Pet insurance doesn't have network restrictions — you can take your dog or cat to any licensed vet or specialist nationwide. Some providers extend coverage to Canada and overseas territories like Puerto Rico, as well.
Types of pet insurance
Pet health insurance plans vary in coverage and, of course, premiums.
Accident & illness policies
An accident and illness policy covers diagnosis, surgery, hospitalization, treatment and medications for any covered accident or illness. The policy may also reimburse you for physical therapy, alternative therapies and even behavioral modification, as long as it's recommended by a veterinarian to treat an eligible condition.
Accident-only policies
An accident-only policy only pays for sudden and unexpected injuries such as poisonings, broken bones or bloating. This type of pet insurance is more affordable than an accident and illness plan and may be suitable for pet owners whose primary concern is their pet's propensity for accidents and mishaps. An accident-only plan is also the next best option if your cat or dog is too old to qualify for an accident and illness policy.
Wellness riders
Wellness riders, also known as wellness packages or routine care riders, reimburse you for routine care expenses that aren't covered in the base policy.
This type of plan isn't an insurance policy but a subscription plan that your insurer sells separately. You pay a monthly fee and the plan will reimburse various routine care expenses including vaccinations, checkups, pet dental care and parasite prevention. Each covered item is subject to a yearly limit, which may look something like this:
$75 for all vaccinations within a year
$150 for one dental cleaning
$50 for parasite screenings
$25 for health certificate
When you're shopping for pet insurance, the insurer often presents the wellness add-on option before the final check-out. At this stage, you will be able to see the premiums for the policy with or without the rider. This allows you to assess the cost and determine if the wellness add-on aligns with your budget.
How does pet insurance work?
Pet insurance works much like other insurance policies. You pay a monthly premium and the insurance carrier agrees to reimburse your pet's medical expenses if they get seriously injured or ill.
Each year, policyholders must pay for their pet's medical care out-of-pocket until they reach the annual deductible. Once the deductible is paid for, the insurance will reimburse up to 90% of the subsequent vet bill until you reach the annual payout limit (the maximum amount your insurer will pay in a year).
Your policy is up for renewal each year, at which point you can change the policy's reimbursement percentage, deductible and annual payout limit.
Upon renewal, the deductible and the annual payout limit reset and your premiums are recalculated but unlike your car or homeowners insurance policy, premiums won't increase if you file a claim. That said, premiums will increase to match your pet's age, inflation and the cost of veterinary care in your zip code.
What does pet insurance cover?
Pet insurance coverage reimburses pet owners for the diagnosis and treatment of accidents and illnesses. This includes but isn't limited to poisoning, bite wounds, ingesting a foreign object and torn ligaments. Cancer, diabetes, allergies, arthritis and orthopedic conditions are also covered.
Pet owners who purchase an accident-only policy will get a fraction of the coverage benefits, as the policy will only reimburse them for accidental injuries.
Does pet insurance cover allergies?
Pet insurance covers allergies as long as it isn't a pre-existing condition. In fact, allergies are one of Healthy Paws' top ten pet insurance claims. You can get reimbursed for diagnostic tests and treatments such as immunotherapy, oral, injectable and topical medication, prescription shampoo and prescription food.
Does pet insurance cover teeth cleaning?
Pet insurance doesn't cover teeth cleaning because this service is considered part of your pet's standard care. Most preventive care riders will reimburse up to $150 for a dental cleaning but that might not be enough to break even if your pet needs an extensive procedure. To maximize your benefit, minimize tartar build up with dental chews and frequent brushing and follow your vet's dental care recommendations.
Does pet insurance cover surgery?
Yes, pet insurance covers surgery as long as it's performed by a licensed veterinarian. Surgery coverage includes any diagnostic tests (MRI, CT scans, X-rays or blood tests), anesthesia, intravenous fluids and medications, as well as medical supplies such as bandages, casts and splints.
Does pet insurance cover dental?
Pet insurance covers tooth extractions and treatment to address gum disease. Some policies go the extra mile and cover endodontic treatment (root canals and crowns). Pay close attention to any terms that limit which teeth are covered. A policy might cover tooth extractions and gum disease if it occurs in the molars or premolars but exclude the incisors (the four front teeth).
Does pet insurance cover vaccines?
Vaccines — as well as preventive medication for heartworm, fleas ticks and parasites — are not covered by accident and illness policies. Vaccines would only be eligible for reimbursement if you get a preventive care package.
The payout cap for core vaccines and boosters typically ranges from $20 to $150, so you might have to pay out-of-pocket for part of the vaccination bill if you live in an area with expensive vet care rates.
Does pet insurance cover spaying?
Pet insurance doesn't cover spaying or neutering unless you add preventive care coverage. This procedure usually shares its payout limit with dental cleanings but it's highly unlikely that your pet will need both services in the same year. Pets are typically spayed or neutered when puppies and vets recommend the first dental cleaning at two to three years of age.
What is not covered by pet insurance?
Pet insurance coverage exclusions vary slightly per provider so it's best practice to read the sample policy thoroughly before enrolling. But don't worry: We've got you covered. The following list explores six of the most common exclusions across the industry.
Pre-existing conditions
Pet insurance providers exclude any illness or injury that exhibited symptoms prior to the policy's effective date or during the waiting period. If your pet develops allergies during the 30-day waiting period, it won't be eligible for coverage.
Routine care
Car owners don't expect their auto insurance policy to pay for the vehicle's oil change. Well, pet insurance is the same. Routine care (annual checkups, vaccinations, parasite screenings, grooming and dental cleanings) is considered part of your responsibilities as a pet parent, so insurance won't cover it.
Check-up fees
Most companies exclude exam fees from the standard policy or charge extra to add this coverage. That said, a handful of providers are starting to include veterinary exam fees in their base policies.
Obedience training
Obedience training, the practice of teaching pets specific commands like sit and stay, isn't covered by pet insurance. Some insurers might cover behavioral modification to treat stress, fear, anxiety and aggression, but they require that a veterinarian or certified animal behaviorist with a vet referral provides the therapy. Treatment by an animal trainer or therapist without the necessary qualifications isn't covered.
Injuries or illnesses linked to owner negligence
Pet insurance won't cover injuries or illnesses caused by organized fighting, racing or guarding. This exclusion also applies if your pet is intentionally harmed by you or any member of your household.
Illnesses caused by lack of preventive care
When you sign a pet insurance contract, you're also agreeing to provide adequate preventive care or risk having your claims denied. This exclusion applies to heartworm, parasites, flea and tick-borne diseases, and dental ailments caused by a lack of dental cleanings.
Pet insurance for pre-existing conditions
As a general rule, pet insurance doesn't cover pre-existing conditions.
There's only one exception to this rule and it depends on whether the carrier makes the distinction between curable and incurable pre-existing conditions. Fortunately, most do.
The United States Fire Insurance Company — the underwriter behind ASPCA, Spot and Pumpkin's pet insurance policies — excludes chronic pre-existing conditions but will cover curable ones such as ear infections or dermatological conditions. The only requirement is that the pet remains symptom- and treatment-free for six months.
On the other hand, Trupanion and Healthy Paws make no such distinction. Any illness that can be traced back to when the pet wasn't insured is excluded.
Here are a few examples of curable and incurable pre-existing conditions:
| | |
| --- | --- |
| Curable | Incurable or chronic |
| Respiratory infections | Orthopedic illnesses |
| Urinary tract infections | Allergies |
| Ear infections | Cancer |
| Bladder infections | Diabetes |
| Vomiting unrelated to chronic illness | Arthritis |
| Diarrhea unrelated to chronic illness | Epilepsy |
Bilateral conditions
Bilateral conditions — those that affect the body on both sides — are another important subset of pre-existing conditions. Let's say your pet tore a joint on its right knee a few months ago. You already know that insurance will consider that a pre-existing condition but there's another catch: The policy won't cover the left knee if it develops the same problem in the future.
Examples of bilateral conditions include:
Hip dysplasia
Elbow dysplasia
Cruciate ligament issues such as ACL tears
Cataracts
Cherry eye
To avoid surprises, it's best to get a medical history review right after you apply for pet insurance. Most companies will request your pet's medical records and a recent medical exam. After reviewing the documents, the insurer will send you a schedule of benefits listing each pre-existing condition they've identified. You're free to cancel for a full refund within 30 days if you're dissatisfied with the coverage, provided you haven't filed a claim.
Pet insurance cost
The number of insured pets has increased steadily since 2017 despite the fact that pet insurance is a significant expense. These figures represent millions of pet parents willing to pay for added peace of mind. If you're considering insurance for your beloved companion, we can help you make an informed decision.
How much does pet insurance cost?
According to Rover's 2023 report on the cost of dog parenthood and cat parenthood, annual premiums for dog insurance range from $360 to $720, while coverage for cats ranges from $240 to $360. However, pet insurance costs vary depending on factors beyond the insurance provider you select:
Type of animal – Dog insurance costs twice as much as pet insurance for cats. Bird insurance premiums typically start at less than $21 a month, while horse insurance starts off quite expensive — over $80 a month.
Pet's age – Premiums increase with age and do so sharply for very old animals. In addition, after your dog or cat reaches the age of 10 or 12, your options for insurance providers will significantly diminish.
Pet's breed – Purebreds prone to congenital or hereditary conditions usually cost more to insure than mixed breeds.
Pet's size – Larger dogs or cats (regardless of the breed) are more expensive to insure than small or toy-sized animals. That said, smaller breeds tend to live longer, which means you'll pay more over the animal's lifetime.
Where you live – Pet insurance costs more in states where vet care is more expensive. On average, residents of California and New York pay the most. You might also find rate variations across zip codes. For example, rural Texas residents will likely pay less than residents of cities like Austin or Houston.
Average cost of pet insurance
According to NAPHIA's State of the Industry Report, the average monthly premium for cats is $29 and $49 for dogs. We compared pet insurance plans for a cat and a dog in Miami, Florida to better illustrate this.
Some companies charge significantly more than the averages reported by NAPHIA. You'll also notice that monthly rates increase to inordinate prices as the pet gets older, no matter the company or the type of pet.
How much is pet insurance for dogs?
Sample quotes for a Labrador retriever from Miami, Florida
| | | | | |
| --- | --- | --- | --- | --- |
| Company | 1-year-old | 3-year-old | 5-year-old | 10-year-old |
| Spot | $66.79 | $66.79 | $88.67 | $202.39 |
| Pumpkin | $27.23 | $86.18 | $111.83 | $261.15 |
| Figo | $51.30 | $51.19 | $69.38 | $78.22 |
| Embrace | $55.01 | $76.39 | $96.67 | $185.90 |
| Pets Best | $57.21 | $57.21 | $77.12 | $197.63 |
| Lemonade | $27.23 | $41.87 | $56.18 | N/A |
| Trupanion | $86.87 | $198.03 | $238.46 | $379.97 |
| Nationwide | $92.67 | $83.71 | $102.15 | $269.40 |
| AKC | $26.85 | $32.45 | $70.09 | N/A |
How much is pet insurance for cats?
Sample quotes for a domestic shorthair from Miami, Florida
| | | | | |
| --- | --- | --- | --- | --- |
| Company | 1-year-old | 3-year-old | 5-year-old | 10-year-old |
| Spot | $17.68 | $26.32 | $29.58 | $67.92 |
| Pumpkin | $28.26 | $28.26 | $31.75 | $71.91 |
| Figo | $11.16 | $15.70 | $19.94 | $43.17 |
| Embrace | $12.17 | $18.64 | $22.67 | $38.29 |
| Pets Best | $12.90 | $18.60 | $22.08 | $43.08 |
| Lemonade | $17.96 | $16.75 | $19.75 | N/A |
| Trupanion | $28.94 | $32.09 | $44.50 | $67.49 |
| Nationwide | $25.85 | $25.71 | $33.70 | $78.78 |
| AKC | $13.34 | $14.92 | $20.44 | N/A |
Please keep in mind that pet insurance rates change frequently and your quote may be different. Sample quotes correspond to an accident and illness policy with 70% reimbursement, $10,000 payout limit and a $250 deductible, except in the case of Trupanion, Figo and Pumpkin, which offer slightly different coverage.
Additional out-of-pocket expenses to remember
The cost of pet insurance is not limited to premium payments. Unless you purchase a policy with 100% reimbursement and unlimited payouts, you'll have to cover some expenses yourself.
Exam or office fees – When you take your pet to the vet or to an emergency clinic, the office charges an exam fee that's separate from diagnostic or treatment costs. Most insurers exclude this fee from coverage, which then amounts to a hidden deductible of $30 to $100 for each visit.
Deductible – You'll need to meet the policy's deductible each year before the insurance company starts reimbursing. It might take a few vet visits to reach the deductible amount, especially if you set a high deductible in order to lower your premium rate.
Copay – Once you file for reimbursement, plans typically pay 70% to 90% of eligible veterinary services. The remaining 30% to 10% comes out of your own wallet.
Payout caps – Pet insurance won't pay once you've reached the policy's maximum coverage amount for the year. Some insurers also set individual payout caps for benefits like behavioral modification, dental illness and end-of-life expenses.
If you're on a tight budget, check out our reviews of the best cheap pet insurance. In our sample of providers, the cheapest pet insurance quotes were $11 per month for cats and $27 for dogs.
How much is a vet visit?
The cost of a routine visit ranges from $50 to $250, depending on the care your pet receives and the clinic's location. A standard visit includes vaccination boosters, preventive medications and a physical exam.
The real financial benefits of pet insurance kick in for emergency vet visits and hospitalizations or the treatment of chronic conditions, all of which are significantly more expensive.
How much is a vet visit for a cat without insurance?
A routine wellness visit for cats, including bloodwork and a dental exam, averages between $100 to $200, according to MetLife Pet Insurance.
The same Healthy Paws report cited above lists gastritis as the most common condition in cats. Claims for reimbursement ranged around $1,500- $1,800. Next were urinary tract infections for an average cost of $1,050.
How much is a vet visit for a dog without insurance?
The cost of a vet visit depends on the purpose. Is it for a standard yearly checkup or are you rushing to the vet for an emergency?
Expect to pay between $50 to $250 for a routine checkup without a dental cleaning, which can add $300 to $500 to the bill.
A vet visit to address a specific issue comes with a higher price tag. According to Healthy Paws's Cost of Veterinary Care in 2022, skin conditions were the most common insurance claim of the year for dogs. The bill averaged $200 to $2,500. Gastritis came second and cost an average of $1,600 to $5,000 to treat.
How to choose pet insurance
Pet owners don't need to worry about selecting the best dog insurance or the best pet insurance for cats. A good insurance policy will cover both pet types equally.
First, we recommend you review pet insurance companies by how well they follow the pet insurance best practices identified by the American Veterinary Medical Association and the regulatory guidelines established in the Pet Insurance Model Act.
Then it's time to do some comparison shopping.The best way to compare pet insurance plans is to look at the policy's benefits, exclusions and compare the cost versus value.
Here's a summarized version of what you'll find in our guide on how to buy pet insurance:
Pick a policy type – Decide between an accident and illness plan or an accident-only policy. Consider the value of a wellness package, as well. Is it worth the monthly expense or are you better off setting money aside for your pets basic needs

?
Research providers – You'll find that many share the same insurance underwriter but vary in terms of coverage options and the services they offer, such as 24/7 vet helplines.
Compare pet insurance quotes – You'd be surprised at how much variability there is from one provider to the next. Some insurers may quote double the price than others for the same pet so it pays to do some comparison shopping.
Compare coverage benefits – Take a close look at what is and isn't covered. Compare the policy's coverage for hereditary, congenital and chronic conditions (especially if your pet's breed is prone to a particular issue), dental illnesses, alternative therapies and behavioral modification.
How to save on pet insurance
When it comes to premiums, there's not much you can do about your pet's breed, age or your zip code, but you can tweak coverage levels to fit your budget:
Payout caps – The highest coverage limit (90% to unlimited) increases premiums. To pick the right payout cap, check the average cost of vet treatment in your area for breed-specific illnesses and common injuries, especially those considered "worst-case scenarios".
Reimbursement percentage – A low reimbursement percentage means you'll pay less in premiums. However, this also means you'll have a higher copayment.
Deductibles – The higher the deductible, be it annual or per-incident, the lower your policy's premium will be. If your pet remains healthy, this strategy will save you money, but you'll pay more out of pocket if anything unexpected happens.
We also recommend you opt out of wellness riders and budget for your pet's basic vet care separately. The yearly cost of these subscription plans is often much higher than what you'd pay at the vet for checkups. On top of that, the rider might not even cover the full cost of your pet's routine care, especially when it comes to procedures like dental cleanings or spay and neuter surgeries.
Pet insurance discounts
Don't forget to apply any available discounts to reduce your monthly payment. Common discounts include:
Annual pay discount – lower rates if you pay for the policy annually instead of monthly
Multipet discount – discounted rates for each additional pet you enroll with the same provider
Bundle discounts – discounted rate for bundling with homeowners or renters insurance under the same provider
Spay/neuter discount – reduced premium if you spay/neuter your pet upon enrollment
Military discounts – discounts for active and former members of the armed forces
Group discounts at work – lower rates for employer-provided pet insurance
You can also save money by adopting through a shelter. Trupanion offers 30 days of free insurance at participating shelters and vets if you activate the plan within 24 hours after the pet's first veterinary examination. Waiting periods don't apply and you can continue coverage after the trial ends. Check whether the best places to adopt a pet participate in similar programs.
Is pet insurance worth it?
You may wonder whether paying for pet insurance for dogs or cats is worth the monthly expense, considering how much pet spending has increased.
Inflation is just one of the reasons behind the rising cost of veterinary care; the other reason is surprisingly positive. Technological advances have made it so that our furry friends have access to similar medical procedures as us — and more expensive.
Pet insurance is worth the cost if:
Your pet is young and healthy overall when you enroll
You can't afford the full amount of costly, unexpected vet bills
You can afford to pay monthly premiums plus any copays and the deductible.
You don't want to be forced to choose between your pet's health and your financial stability
Say you bought an accident and illness policy for a three-year-old dog. After meeting the $250 annual deductible, the policy will reimburse 90% of vet bills up to a $15,000 limit. The pooch is then diagnosed with patellar luxation, a common knee condition in toy breeds.
Here's how the policy would work in practice:
You pay the full cost of the surgery ($1,500) at the vet's office
The insurance provider subtracts the deductible ($250) and pays for 90% of the remaining balance ($1,250)
You'll receive a reimbursement of $1,125
Your final out-of-pocket cost is $375 (the $250 deductible, plus your 10% copayment)
What if your pet insurance company goes out of business?
Although it's a rare occurrence, insurance companies might still go out of business unexpectedly. Trusted Pals, Bivvy and Otto pet insurance are recent examples of pet insurance companies that closed down. Trusted Pals and Otto stopped accepting new policies, while Bivvy's sign-up button redirects you to Spot pet insurance if you want to enroll a new pet.
What's important to remember is that your money is protected if this ever happens to your insurance company. Each state administers a state guarantee fund that will cover any pending claims once the insurance company is declared insolvent. The typical payout limit for these funds is $300,000 per policyholder, which is more than enough to cover any unpaid pet insurance claims.
Pet Insurance FAQs
What is the best pet insurance?
The best pet insurance for you will depend on a combination of different elements, mainly your budget and your pet's needs. Check out our
best pet insurance reviews
to find the right one.
How much is pet insurance?
Pricing your pet insurance premium will depend on many factors: 1) your pet's type, sex, and breed; 2) your pet's age; 3) your location; 4) coverage types; 5) deductible and reimbursement level. The more expensive it is where you live, whether it's California or New York City, the more expensive your pet insurance will be. Find more information about each factor in our subsection
how much is pet insurance
.
What does pet insurance cover?
It depends on the specific plan. Standard pet health insurance will cover most accidents and injuries. Still, you can also buy a policy that covers only accidents or only routine vet visits for checkups and vaccinations, usually called wellness plans. "Things like ultrasounds, blood tests or procedures such as MRIs or CAT scans — they're now available [for pets]," said Dr. Jerry Klein, Chief Veterinary Officer for the American Kennel Club.
How does pet insurance work?
Pet insurance is a policy that comes with a monthly premium. With pet insurance, if your pet is sick or injured, you pay the bill up front and submit a claim for reimbursement. You can take your pet to a licensed veterinarian and then submit a claim to get reimbursed for issues that are covered under your pet insurance plan. Review our pet insurance guide to learn more about
how pet insurance works
.
How does pet insurance know about pre-existing conditions?
Pet insurance companies identify pre-existing conditions by reviewing your pet's medical records or requesting a nose-to-tail medical exam before enrollment. The veterinarian that performs the test must list every symptom and condition present at the time of examination. To gather your pet's medical records, the company might request the contact information of every shelter or veterinarian that has treated your pet in the past.
How We Chose the Best Pet Insurance Companies
As part of our methodology, we gathered sample quotes and compared pet insurance plans based on the following factors:
Plan and coverage options
Cost and available discounts
Policy benefits, exclusions and restrictions
Waiting periods
Customer service options and claims processes
When evaluating insurance companies, we typically look at the complaint index recorded by the National Association of Insurance Commissioners (NAIC). Unfortunately, these metrics aren't yet applicable to pet insurance — the NAIC doesn't track pet insurance complaints the same way it does for other types of insurance and there's a significant lack of data.
For consumers, identifying which entity to report is also challenging — the pet insurance brand name isn't the same as the name of the insurance provider and multiple insurers may underwrite for a variety of pet insurance brands.
Summary of Money's Best Pet Insurance Companies of July 2023